Get to Know a
Talented Singer and Actress
Van Ann Moore has performed internationally as a singer/actress who researches, writes, directs, and stars in her own one-woman musical theatre performances. Van Ann has two distinct types of shows that she creates: first, her historical characters ranging from Jenny Lind, Baby Doe Tabor, and Civil War heroines to actresses such as Lillie Langtree and Sarah Bernhardt (to name just a few). Secondly, Van Ann's musical theatre shows are highly entertaining and range from opera to pop with character and costume changes right onstage!
Ms. Moore holds B.A. and M.A. degrees from the University of Colorado and the University of Denver respectively, graduating cum laude and with honors from both institutions. She has been associated with the University of New Mexico, teaching theatre and music for over ten years, the New Mexico Arts Division as an Artist-in-Residence for the state, the New Mexico Endowment for the Humanities, and has performed and taught master classes in music and theatre at numerous festivals and colleges throughout the country.
Van Ann has performed in Europe, the Orient, Israel, Australia, and New Zealand with a tour to Spain where she performed the leading role of "Dona Tules" in a musical written for her by Jay Stewart entitled "Viva Santa Fe!" (based on her one-woman show of La Tules). Van Ann was also invited to perform at the first International Chautauqua held in the United States. She has over forty-five major roles to her credit in opera, musicals, and plays, and enjoys concert singing engagements as well.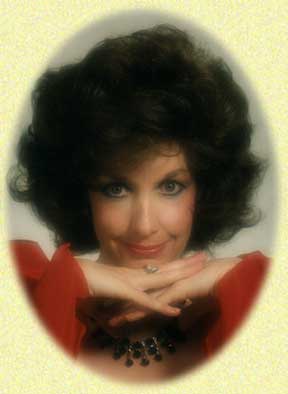 Dolley Madison, Jessie Benton Frémont, Concha Ortiz y Pino, Lydia Spencer Lane, All Aboard! Fred Harvey Indian Detours Courier, Sopranos and Six Shooters: Great Ladies of the Western Theatre, and Amazing Women of the Wild West: Territorial New Mexico are her newest historical characters and shows. Presently Van Ann is working with the board of "Viva Santa Fe!," the musical, to be performed throughout New Mexico to commemorate the history of New Mexico and the infamous Doña Tules. This is THE musical to see to celebrate the Land of Enchantment!
Performing Arts Affiliations
New Mexico Arts Division – Touring & Residency Programs
New Mexico Endowment For the Humanities – Chautauqua Program
B'way Musical Heritage Society
Associated Clubs Speakers Bureau
Knives and Forks Club Speakers Bureau
New Mexico Historical Society Speakers Bureau
Education
B.A. Cum Laude – University of Colorado
M.A. with Honors – University of Denver
Post Graduate Work – University of New Mexico & Mary Washington College, Virginia
Vocal Certificate – Dick Grove School of Music, Los Angeles
Training
Private Operatic, Classical, and Musical Instruction:
~ Robert Lansing – The Metropolitan/Chicago Lyric Opera Companies
~ Austin Miskell – European Concert and Opera Soloist
~ Marilyn Tyler – International Opera Singer
Theatrical/Musical Experience
Forty-five major roles in plays, musicals, and operas (i.e. Agnes in "I Do! I Do!" – Las Vegas)
Eight One Woman Music-Theatre Shows (i.e. "Curtain Up! Light the Lights!," "Mad About Love," etc.)
Researched, Written, Directed, and Performed by Van Ann Moore:
~ Dona Tules and Susan Magoffin
~ Jenny Lind and Baby Doe Tabor
~ Sara Bernhardt, Lillie Langtree, and Lillian Russell
~ Clara Barton, Belle Boyd, and Libby Custer
~ Martha Washington and Dolley Madison
~ Molly Brown and others!
Also many concerts and oratorios as a soprano soloist (i.e. Jean Berger Festival, Denver and Las Vegas)
Concert tours to Europe, Australia, New Zealand, Israel, China, and Japan
Excerpts from Letters
"What she [Ms. Van Ann Moore] has done with these characters [Dona Tules and Susan Magoffin] has been nothing short of spectacular". ... "I could praise Ms. Moore as a person, an instructor, and an actress for several pages. Perhaps it is best to conclude by simply stating that in all my years as a college administrator and professor I have never met such a talented, enthusiastic, pleasant individual". ... "... I can say without a doubt that I have never encountered a person I could recommend more highly as a professional actress and instructor than Van Ann Moore".
~ Richard Melzer, Ph.D - University of New Mexico
"Wednesday, March 2, 1990 was a red letter day in the week-long celebration of the opening of the New National Frontier Trails Center in Independence, Missouri, for that was Santa Fe Trail Day. As the final entertainment of the final day, Van Ann Moore's spectacular characterization of the 1846 historic bride, Susan Shelby Magoffin, brought down the house. Her program was an historically accurate impersonation from which she never deviated; an hour-long feat impossible to copy or to plagiarize. The appreciative audience was held spellbound by her charming ability to empathize with them".
~ Pauline Fowler, Chairman - Santa Fe Trail Day
"The Susan Shelby Magoffin performance drew the largest audience we have had to date for a Chatauqua Program at New Mexico State University. Part of the increased attendance was surely due to the continued record of excellence for the Chatauqua selections in general, but the obvious increase for the Van Ann Moore appearance speaks for itself. Ms. Moore has proved time and again her professional capacity for holding audience attention - literally gluing them to their seats with a well-orchestrated show which included history, character interpretation, music, period wardrobe, and her own delightful personality. All in all, a truly grand production"!
~ Bradley Blake, Museum Director
"Ms. Moore is a truly professional performing artist who typifies the essence of a gifted individual. She dedicates her time and talent to a project with sincere devotion and complete professionalism".
~ Burton Dikelsky, Executive Director - Albuquerque Civic Light Opera Association
"Ms. Moore's vocal ability and acting versatility are boundless. She sings pop, musical comedy, and opera with ease, and her performances fill the auditorium with exuberance, clarity, perfect pitch and diction. She can play either drama or comedy with aplomb".
~ Bill Potenziani, Guest Director - Albuquerque Civic Light Opera Association
"Van Ann's beautiful singing voice and marvelous characterization captured the audience's attention and held it for over an hour. Her historical insight into Jenny Lind was fascinating, and she was able to bring the character to life; it was as if Jenny Lind herself were there talking to and singing for the audience. Perhaps the best part of Van Ann's performance, though, was the enthusiasm and energy with which she presented the program. Not content to merely sing and talk, she danced around the room and masterfully adapted her program to the situation and the audience. She is a true professional, and her performance was certainly worthy of the standing ovation it received".
~Judy Armstrong, Assistant Dean of Instructional Support - Eastern New Mexico University
"Van Ann's repertoire seems limitless... anyone could prescribe almost any program. Our audience was totally enchanted, responded with standing ovations and requests for a return engagement"! ... "The program included selections from Puccini and Mozart; Jerome Kern and George Gershwin and others... from opera and musical theatre". ... "We enthusiastically recommend Van Ann Moore and her talents to all who enjoy great entertainment".
~ John Stermer, President - Silver City Arts Council, Silver City New Mexico
Van Ann emerged as the "shining star" of the Festival with her exhilarating one-person show which was the most uplifting of the evening. She captivated the audience and brought smiles to their faces. It was our pleasure to sponsor her quality entertainment...We highly recommend her to all for a thoroughly enjoyable performance.
~ Filomena Baca, President - Valencia County Arts Council
Quotes from Reviews and Individuals
The most pleasing surprise of the evening was the unquestionably superb performance by Van Ann Moore ... she has a great future before her.
~ Denver Post
Van Ann Moore, in the only feminine role, turns in a superb virtuoso performance as Ruth... "We Bombed in New Haven" is theatre at its very best. Don't miss it!
~ Boulder Camera
Miss Moore has mastered and internalized this role to a degree that you just don't see very often. Her Rosie is very moving... The way Miss Moore's emotion supports the other characters is simply gorgeous. She reached the only goal there really is to strive for, the one that defines theatre - total believability. Finally, it is Rosie from the Bronx who is the catalyst who makes it all come together, and Van Ann Moore is superb.
~ Boulder Camera
The third member of the cast, however, Van Ann Moore, gives a superlative characterization. She is controlled and poised in the part, tempering resignation with compassion. There is a great difference in acting and reaction, of which Miss Moore seems eminently aware.
~ Denver Post
Van Ann Moore as Frau Rose played her role with gusto and energy, effectively crystallizing for the audience the two sides of Duerrenmatt's play, the sinister and the comic. One remembers Miss Moore's performance with pleasure.
~ Boulder Camera
Miss Moore's singing rates plaudits for its powerful expressiveness.
~ Denver Post
I only see professional potential in a handful of singers, but Van Ann Moore has "what it takes". I would like to talk "contract" in a very short time. She has the potential to be one of the very best.
~ George London
Van Ann Moore's singing voice is impressive in size and quality. She is highly artistic, both in classical, and musical theatre and popular music. This is a truly rare combination. Her acting is compelling, energetic, and impressive.
~ Robert Lansing, Opera and Choral Director
I have seen and felt only a handful of performers to have "star-quality" - even artists who had yet to be discovered - and when I saw Van Ann Moore in my premiere production of "The Cherry Tree Carol" playing the part of Marry, I knew (just like I did with Beverly Sills when I accompanied her on one of her first concert tours) that Van Ann Moore was of star quality.
~ Jean Berger, International Composer
Van Ann Moore is one of the few singers I have heard who moves me to tears. I am mesmerized by her stage presence. And I believe in her.
~ Marcel Marceau
I found Van Ann Moore a most unusual talent which could be developed into a splendid artist. Her voice is large, has beautiful soprano timbre, and she has considerable facility and color. She has a very attractive personality and would, I believe, be a welcome addition to any operatic or concert stage...as she has the qualities that go to make a successful career.
~ Sam Morgenstern, N.Y.C. Opera Coach, Conductor, Composer and Author
Ms. Moore is a truly professional performing artist who typifies the essence of a gifted individual. As a performer and teacher, she brings a touch of class to our organization. Her singing range and ability to create memorable moments in a characterization are exceptional.
~ Burt Dikelsky, Executive Director - Albuquerque Civic Light Opera Association
The evaluations of Van Ann Moore's residences were among the best we have ever received on any artist. They commented on her commitment, enthusiasm and of course, the completion of highly successful productions. Many say that she is the best Artist-in-Residence they have ever received from our program.
~ Paul Becker, Director - New Mexico Artist-in-Residence Program
Stylistically, the red-head is reminiscent of famed opera star "Bubbles" Sills in gutsy humor and lovely soprano voice...a musical variety show is difficult to maintain single-handedly. Ms. Moore planned various aspects of the venture well. This show whetted the appetite for more experiences with the performing Ms. Moore at her best.
~ Albuquerque Journal
Let is be said first of all that Ms. Moore is a trooper. She performed virtually solo for something approaching three hours, taking only one intermission and a few sips of water to sustain herself...in every respect, she gave those in her audience their money's worth...One left feeling that the venerable Santuario had been put to very good use that evening.
~ Journal North
Van Ann gave a virtuoso performance in the character of Jenny Lind. We are impressed with this versatile young woman's presence and ability, and with her truly remarkable voice.
~ Dorothy Perterson, New Mexico Arts Commissioner
Van Ann Moore gives us a hilarious portrait...Miss Moore has excellent stage presence and her parting scene with Mobius is one of the strongest in the play.
~ Boulder Camera
Van Ann Moore has "BIG TIME" written all over her. Her show brought us to our feet!
~ Denver Post